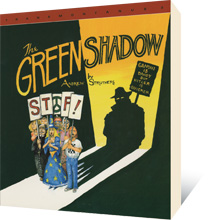 The Green Shadow
Andrew Struthers
128 pages, 8×9 inches

Price:

$16 CAD · $16 USD

ISBN:

9780921586449

Date published:

1995-01-01

Availability:

in print & available
About The Green Shadow
A hilarious, illustrated account of life in the previously sleepy town of Tofino, during the heated controversy over the proposed logging of BC's Clayoquot Sound. The Green Shadow, which was originally serialized in the Georgia Straight, earned Struthers a 1995 National Magazine Award for Humour and a nomination for two 1995 Western Magazine Awards.

In 2004, Struthers published a followup to this story, The Last Voyage of the Loch Ryan.

The Green Shadow is number 3 in the Transmontanus series.