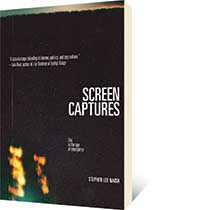 Screen Captures: Film in the Age of Emergency
208 pages, 6×9 inches

Price:

$20 CAD · $18 USD

ISBN:

9781554201754

Date published:

2021-09-30

Availability:

not yet published
About Screen Captures
Movies open a window into our collective soul. In Screen Captures, Stephen Lee Naish guides us through recent cinematic phenomena that reflect/refract our contemporary political existence. From Star Wars-scope blockbusters and Hollywood coming-of-age comedies to independent horror productions, Naish draws out the ways these movies shape, and are shaped by, their audience's own dissatisfactions.
In his discussion of the Star Wars franchise, Naish highlights a conflict between internet discussion-fueled fandom vs the Disney Empire that shares features with the ongoing rebellions depicted in the films themselves. A passionate fan base who can now voice their discontent via the internet is feeding back into the studio's agenda and criticizing the actions of characters within the film and the actors alike.
Chapters on the super-hero genre and disaster movies draw out the climate-based social tensions these reflect. Depictions of masculinity ("Men on the Verge of a Nervous Breakdown") on screens large and small bleed into discussions of the work and presence of Nicholas Cage, David Lynch, and Dennis Hopper — with a side-excursion into Valerie Solanas's strikingly prescient SCUM Manifesto.
Stephen Lee Naish's Screen Captures adds a sharpening filter to the film-goer's experience on the big and little screen.