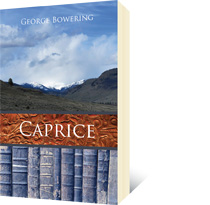 Caprice
280 pages, 6×9 inches

Price:

$19 CAD · $19 USD

ISBN:

9781554200535

Date published:

2010-11-15

Availability:

in print & available
About Caprice
WITH A FOREWORD BY ARITHA VAN HERK

It's the mid 1890s in Kamloops, British Columbia. Two men argue over a bottle of whisky and in the struggle Frank Spencer, an American outlaw–turned–farmhand, kills Pete Foster, a French–Canadian and fellow farmhand.

Enter Caprice: a vision and a brain. Almost six feet tall, with flaming red hair and long legs, and toting a lethal bullwhip, she sets out to avenge her brother's murder. Travelling with her beloved black Spanish stallion, Caprice trails her brother's murderer to Mexico and back. Determined and headstrong as she is smart, she leaves an impression on the people she encounters in her journey: Gert, the whore with a heart of gold; Gert's son, for whom she provides affirmation, and not the least Frank Smith, her lover, a teacher and amateur baseball player who wants her to leave the law enforcement to the professionals and marry him.

Caprice finally comes face to face with her brother's murderer at Deadman's Falls.

First published in 1987 and based on actual events in BC's history, Caprice is a witty, adventurous and colourful recreation of a Canadian heroine's quest in avenging her brother's murder, a woman well ahead of her times, who refused to be pigeonholed into a stereotype, who questioned authority and did so with unflinching resolve.

Caprice is a companion to Bowering's Burning Water and Shoot!, reissued by New Star in 2007 and 2008.