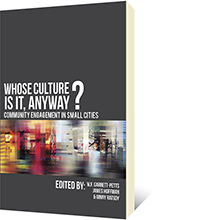 Whose Culture Is It, Anyway?: Community Engagement in Small Cities
W.F. Garrett-Petts, James Hoffman, Ginny Ratsoy
320 pages, 7×10 inches

Price:

$35 CAD · $35 USD

ISBN:

9781554200870

Date published:

2014-10-16

Availability:

in print & available
About Whose Culture Is It, Anyway?
We live, by consensus, in an Age of the Metropolis, and the vast preponderance of scholarship about contemporary urban life has focused on the phenomenon of big-city life. But that is an approach that overlooks the smaller cities and towns where many of us choose to live.

Whose Culture Is It, Anyway? Community Engagement in Small Cities is a major contribution to the growing body of literature on the special character and value of small cities, especially aspects of their unique culture. This book, in focusing on community-engagement in the arts in small cities, offers particular and theoretical perspectives on small cities in Canada and beyond.

Whose Culture Is It Anyway? extends the project, begun in The Small Cities Book: On the Cultural Future of Small Cities, by examining the cultural dynamics of the small city in a wide-ranging context, now looking at activities in an array of geographies, economies, and cultural settings, as well as particularities such as the inner city, brownfield sites, an online conference on the art of engagement, and cultural indicators.

Contributors from a number of disciplines examine the cultural life of small urban centres — in the fine and performing arts, in the critical literature, in public artworks, in parks and walking, and in other amenities through which a community expresses its cultural aspirations. The purpose, as stated in the editors' introduction, is to offer in critical context a body of well-researched studies of community engagement, studies that bring together dynamic aspects of cultural, social, political, economic realities in living community.

The relation between culture and instrumentality, the importance of the local and specific, the regeneration of the urban by means of cultural activities, the value and contribution of small city studies, the movement toward an interdisciplinary research methodology — indeed a wide-ranging re-valuation of the creative sector: all of these are addressed by Whose Culture Is It, Anyway? More specifically, and collectively, the writers and creative artists have approached their work in a particular way, viewing cultural events through a particular lens: that of community engagement — a working concept far from definitional clarity. Often categorized with community development, community participation, community organization, community mobilization, community-based art, social practice, relational aesthetics, plus many allied terms, community engagement, for their purposes, remains a term of intellectual and practical choice.

Whose Culture Is It, Anyway? includes contributions by Bruce Baugh, bill bissett, Ila Crawford, Nancy Duxbury, Alexander Forbes, Kathleen Irwin, Terry Kading & Christopher Walmsley, Caffyn Kelley, Ernie Kroeger, Lucy Lippard, Adelheid Mers, Judith Miller, Bernard Momer, Maureen F. Rogers & Barry P. Brockley, Si Transken, and Savannah Walling.