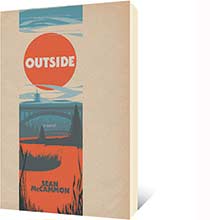 Outside: A Novel
352 pages, 6×9 inches

Price:

$24 CAD · $20 USD

ISBN:

9781554201686

Date published:

2021-03-11

Availability:

in print & available
About Outside
David Woods, a first-year teacher, shares his grade-4 students' passion for nature and their reluctance to be hemmed in by classroom walls. He pushes the boundaries of risk and the constraints of school board policy, leading his class on outdoor adventures with hooting owls, curious stream creatures, and maple syrup making.

Then, during a seemingly innocuous field trip, a fateful decision leads to disastrous consequences, not just for himself but many around him. Consumed by guilt, and desperate to make sense of the seemingly random incident, David flees to Japan, going to ground with a group of Western ESL teachers in a Kyoto boarding house.

As the tragedy is recalled, a parallel narrative finds David drawn into the chaotic lives of his boarding-house companions. The group, including a food-connoisseur deejay, a crude karate student, and an Israeli draft dodger, drag David into experiences that offer hope, love, and the possibility of redemption. In a city cloaked in the ancient trappings of Buddhism and Shintoism, David Woods struggles to draw meaning from his surroundings and experiences before being called home to answer for his actions.

Outside launched live on Zoom on Thursday, May 13th. Check out the event video below.