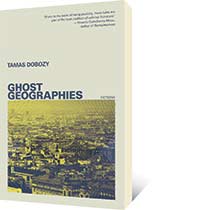 Ghost Geographies: Fictions
320 pages, 6×9 inches

Price:

$24 CAD · $20 USD

ISBN:

9781554201792

Date published:

2021-09-16

Availability:

not yet published
About Ghost Geographies
Tamas Dobozy's first book since his Rogers Writers' Trust Fiction Prize-winning Siege 13, his follow up, Ghost Geographies includes "Krasnagorsk-2" (National Magazine Awards 2014 Gold Medal for Fiction), "The Tire-Swing of Death" (Named Distinguished Story in Best American Short Stories 2015) and "No. 10" (Best Canadian Short Stories 2017), and ten other short stories and novellas documenting the decrepit utopias inhabited by a gallery of immigrants and emigrants, musicians and artists, wrestlers and mill workers.
In settings ranging from post-war Communist Hungary to post-9/11 suburban southern Ontario, Dobozy's new collection is peopled by a disparate cast of vividly imagined characters. They include intellectuals leaving behind lives in Toronto and Brussels, lured to darkest Communist Hungary by love and ideals, like the protagonists of "The Rise and Rise and Rise of Thomas Sargis" or "The Hobo and the Archivist". Others are victims — or perpetrators — of Communist or Nazi crimes, now putting new lives together in North America, as in "The Glory Days of Donkey Kong", "Spires", or "Ray Electric".
Drawing on his Hungarian background and Hungary's history, as well as his experience growing up on Canada's West Coast and living in central Canada, Tamas Dobozy creates a magical and potent universe that invites comparison to the ambitious fictional worlds created by Bolaño and other contemporary masters.
Includes stories originally appearing in:
Able Muse
Agni
Big Muddy
Canadian Notes & Queries
Chattahoochee Review
Fiddlehead
The Literary Review
The New Quarterly
Southern Review