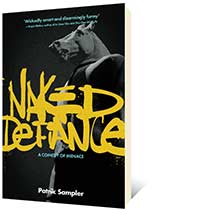 Naked Defiance: A Comedy of Menace
120 pages, 6×9 inches

Price:

$19 CAD · $17 USD

ISBN:

9781554202003

Date published:

2023-04-15

Availability:

not yet published
About Naked Defiance
Naked Defiance is the story of a turn–of–the–century radical art group and its charismatic leader, written by one of its members, Florian Moore (probably a pseudonym), and which lands on the desk of novelist / editor Patrik Sampler, tasked with preparing Moore's manuscript for publication.
Unfolding as a report on an investigation into the death of the group's leader Ganbold Mirzoyan while in police custody, Naked Defiance is a mystery about a series of public performances staged by the eponymous group, and the increasingly disturbing disruptions that its own interventions become subjected to.
Compelling story telling laced with dark social comedy, Naked Defiance is Patrik Sampler's second novel. The Ocean Container was published in 2017. He lives in the Vancouver area.