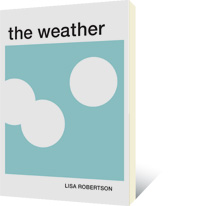 The Weather
88 pages, 6×9 inches

Price:

$16 CAD · $16 USD

ISBN:

9780921586814

Date published:

2001-05-01

Availability:

in print & available
About The Weather
One of Canada's best poets... Robertson's language is sparkling and sharp, and builds momentum through its rhythmic motion motion to produce a dense and difficult, but enjoyable and readable book... The Weather rewrites the pastoral with confidence and cunning.
—Prairie Fire

Hip, cerebral, streamlined, and dense, The Weather is about many things, including the poles of ecstasy and intellectualism...
—The Stranger

Lisa Robertson knows where she is headed, but this is not the only reason that she is a trustworthy writer. Her work results from a reading practice in which words continue to disturb the poet, who is always just beginning to accept that there is more justice in literature than outside it.

—n+1

[A] stunning and severely rich repatterning of the mind's generally uncharted terrain.
—Publishers Weekly

A revelation...
—Artforum

Light and air, greenery and earth take on unaccustomed qualities in the poet's deft hand in this long poem from Lisa Robertson. Seven sections — "Sunday" to "Saturday," alternating prose and verse, repattern quotidian conversations and atmospheres: "bright and fresh," "brisk and west," "streaky and massed," January to December. A constellation of radical women is invoked to pass, elegiac, among clouds: Violette Leduc, Patty Hearst, Mary Wollstonecraft, Olympe de Gouges, Shulamith Firestone, Ti–grace Atkinson. This is exhilarating poetry, wild and trouble, that seamlessly integrated lived experience with the play in mind. It is sure to entrance.

The Weather won the 2002 Relit Award for Poetry.