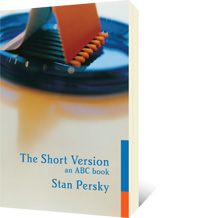 The Short Version: An ABC Book
352 pages, 6×9 inches

Price:

$21 CAD · $21 USD

ISBN:

9781554200160

Date published:

2005-08-04

Availability:

in print & available
About The Short Version
In a volume inspired by Czeslaw Milosz, Stan Persky appropriates the format of the alphabet book as a springboard for musings both personal and philosophical.

The Short Version — which, at 300–plus pages is the author's longest book — is a literal ABC: Persky covers only topics that begin with those three letters, though he can't resist tweaking the format to include such subjects as Richard Rorty("Contingency") and Jack Spicer ("After Lorca"). Subjects range from his travels across Eastern Europe and Asia, to reflections on writers of today.

Unafraid to topple sacred cows or singlehandedly resuscitate those in undeserved obscurity, the author provides a road map to a public intellectual's mind. Persky's cosmopolitan perspective encompasses Woody Allen's films, Roland Barthes's theories of identity, and Italo Calvino's creation of Mr Palomar. Along the way he covers such matters as the art of teaching as practiced by Persky, his foray into northern British Columbia, and memories of long–ago Gestalt sessions with David Berg.

Eccentric, engaging, and ultimately inspiring, Persky's alphabet pushes the boundaries of creative nonfiction and the conventions of autobiography. This is uniquely compelling reading courtesy of one of the country's best minds.

The Short Version is the winner of a 2006 BC Book Prize.