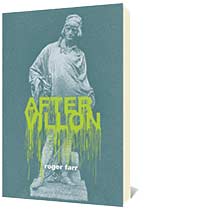 After Villon
80 pages, 5×8 inches

Price:

$16 CAD · $16 USD

ISBN:

9781554201877

Date published:

2022-04-14

Availability:

in print & available
About After Villon
After Villon, the new book from Dorothy Livesay Poetry Prize finalist Roger Farr, is a book of contemporary verse translations and "queer variations" based on the work of 15th century poete maudit Francois Villon.

Villon's poetry, written in medieval French and incorporating the argot of the Parisian criminal underworld, is notoriously bawdy, opaque, and resistant to "straightforward" translation. For this reason, Villon's work continues to be of considerable interest to poets, artists, and scholars working today.

After Villon is informed by previous ventures into Villon's work by Ezra Pound (who invented a new poetic form, the villonaud), Basil Bunting, William Carlos Williams, and, especially, Jack Spicer, who similarly "translated" Lorca in his influential After Lorca (1957) and Jean Calais (Stephen Rodefer), whose chauvinist / "beatnik" version of the poet stepped forward in Villon (1987).

Roger Farr's new re–workings capture the in–group opacity in Villon's work by mingling slangs from a variety of discourses and sites, everything from prison, theatre, culinary, military, to carnie slang. In his translations, Farr subverts sex and gender designations by shifting pronouns, changing names, and refusing heteronormative assumptions about the copious "gaps" in meaning of the original texts.